Founded in 1970, Middlesex Community College has grown to become one of the largest community colleges in Massachusetts, with two distinct campuses, one in suburban Bedford and the other in the center of the city of Lowell. MCC has a total annual enrollment of more than 11,000 credit students and 2,500 noncredit students.
| | |
| --- | --- |
| | The Bedford campus is situated on 200 acres located off Springs Road, close to Route 3. Set on landscaped and wooded grounds bordering the town of Billerica, the campus incorporates 11 buildings that house classrooms, laboratories, offices, the Bedford Campus Library, a Medical Education Imaging Center, and concert hall. A bookstore, cafeteria, fitness center, student lounge, and Center for Health & Wellness are located in the Bedford Campus Center. |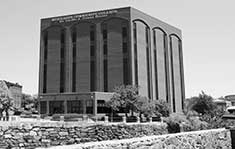 The Lowell campus is located on the riverfront at Kearney Square. It includes the main five-story Cowan Center, with classrooms, offices and the cafeteria. The Federal Building, located directly across Merrimack Street, houses the Lowell Campus Library, as well as additional classrooms, a visual arts studio/classroom, and conference areas.
The newly renovated Richard & Nancy Donahue Family Academic Arts Center (AAC) is home to the college's performing arts - including theatre, dance and music programs. The AAC showcases a variety of theatrical productions, dance recitals and music concert series.    
Lowell is also the home of MCC's Health, Science & Technology Center, located on nearby Middle Street. It includes the Middlesex Dental Hygiene Clinic, classrooms, laboratories and the Nursing Learning Center. Our state-of-the-art Cybersecurity Lab is located across the street in the Pollard Building.
Historic Properties

Close to the Bedford campus, at 294 Concord Road in Billerica, sits the Middlesex Meetinghouse. The Middlesex Community College Foundation funded the renovation of this historic saltbox-style farmhouse in 2004. It is used primarily for college, corporate and community gatherings.
Middlesex also maintains the historic John Nesmith House, located on Andover Street in Lowell. Opened and decorated as a Designer Showhouse in 1994, Nesmith House also is supported by the MCC Foundation.

For detailed information regarding historic properties, call 978-458-3722 or visit www.middlesex.mass.edu/historic.
Profile
Middlesex Community College is committed to providing many options to higher education. With more than 80 degree and certificate programs, as well as many short-term, highly focused programs in selected career fields, our students can take classes during the day, evening and online. MCC students can now complete selected bachelor's degree programs offered in conjunction with Massachusetts state colleges and universities via MassTransfer.
For more than 20 years, MCC has been a leader in online education. Online enrollment now comprises about 20 percent of total credit enrollment. Through Middlesex Online, a rapidly expanding roster of online and hybrid courses are offered. More than 315 unique online courses are taught each year - or about 120 online sections per semester. The college offers 10 degree and certificate programs that can be completed by taking only online and hybrid courses, as well as another 12 programs of study that can be completed mostly online.
The student population at Middlesex ranges from recent high school graduates to adults returning to school. Whether attending full time or part time, our students can enroll in academic degree or certificate programs, prepare to transfer for a bachelor's degree, enter the job market, or take courses for credit toward professional certification and career advancement.
MCC also has an extensive array of noncredit courses offering personal- and professional-development opportunities. Middlesex is strongly committed to promoting student involvement in learning and to providing the academic support that gives our students the ability to succeed.
Recent demographic studies show that 32 percent of MCC students attend full time; 69 percent of first-time, full-time students receive financial aid; and 34 percent have had experience at another college prior to coming to Middlesex.  
Beyond its academic functions, MCC stays attuned and responsive to all its varied constituencies through outreach programs and partnerships with schools, businesses, and professional and cultural organizations.