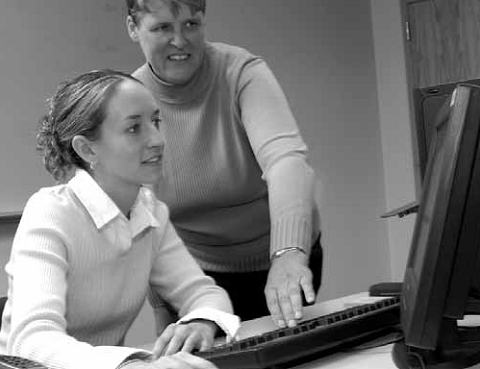 The various technologies and teaching methods involved in online learning allow students greater flexibility in choosing when and where they take courses, and make it possible to study in new ways. With online learning, the classroom is as close as the nearest computer with an Internet connection. Students communicate with the instructor and other students, connect to resources on the web, and do assignments and study off campus at convenient times.
Online Courses are taught primarily over the Internet, although some may have on-campus orientation or testing requirements. Students interact with their instructor and other students using the Blackboard course management system and students' college-provided e-mail accounts. Using the web and the online resources of the Middlesex Library, students can do assignments without coming to campus. Some online courses may require students to install additional software or to make independent field trips.
Hybrid Courses combine online with face-to-face instruction, reducing the amount of time spent on campus to complete a course. At this time, Middlesex offers three types of hybrid courses:
Online instruction that replaces one or two meetings per week; 
Online instruction supplemented by predetermined face-to-face meetings published in the Semester Schedule; 
Online instruction combined with face-to-face labs (such as science courses).
All of these learning alternatives – fully online courses, as well as hybrid courses – address a greater variety of learning styles and give students hands-on experience with new communication technologies they will need to know and use in the future. The content, prerequisites, grading systems and credit for online and hybrid courses are the same as courses offered in the classroom. Students are expected to participate fully, as well as complete assignments and tests in a timely manner.
Students considering enrolling in online or hybrid courses are advised to read the course information and requirements thoroughly to determine their suitability.
The online learning survey and a listing of each semester's online course offerings are posted at www.middlesex.mass.edu/online. For further information, email distance_ed@middlesex.mass.edu